Gemini offers you:
Choice of wired, hybrid or commercial wireless security systems.
Easy-to-use, fully functional keypads, keyfobs and panic buttons.
Smart sensors that adjust to conditions minute by minute.
Compare home security systems.

And much, much more
Choose iSeeVideo you can keep watch over your business from anywhere from your PC or web-ready cell phone.
iSee Video lets you:
Watch live video on your PC or cell phone anytime.
Receive e-mail alerts with video records of alarms.
Keep video to review later

And much, much more.
Napco Digital Security Control Panels
Napco Digital Security Keypads
Napco iBridge Touchscreen Tablet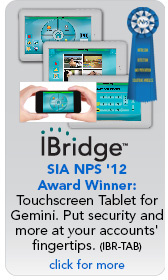 Napco Star Link GSM Future Radio Communicator