Multiroom System
C5 Multizone Controller
MCA-C5
Click For Russound C Series Whole House Audio System BB
The C5 multiroom system offers advanced features
that make enjoying your musical experience even
easier. Party Mode allows you to control the music and
volume in every zone from one zone using a shared
source. Source Linking connects multiple zones to the
same source while allowing independent volume and
on/off control, for when you want your music to follow
you throughout your home. Zone Linking provides
control of multiple zones by one or more keypads,
Multiroom Syste
Multiroom System
CAA66 Multizone Controller
C5 Multizone Controller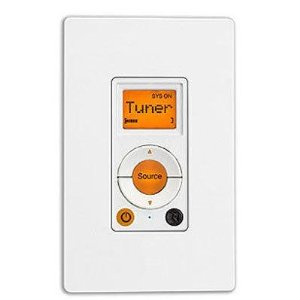 Click For Russound CAA66 Series Whole House Audio System PDF
The Russound CAA66 Multiroom Controller-Amplifi er distributes
six stereo audio sources to six zones. For larger
installations, up to six CAA66 controllers can be linked
together to accommodate a total of 36 zones.
Each zone has its own built-in stereo amplifi er providing
20 watts RMS per channel. The system also provides
independent bass, treble, balance, loudness and volume
control in each zone.
Switchable line outputs on zones 1 and 2 provide either
fi xed- or variable-level signals to external amplifi ers or
local audio systems. This is useful for powering multiple
speaker pairs, extending zones to additional rooms, or
providing more power to outdoor zones.
For zone and source control, the CAA66 system offers
a choice of two zone keypads plus an optional numeric
source control keypad. The controller supports multiple
keypads in each zone when using the optional SA-ZX3
Keypad Splitter.
The CAA66 system controls sources through infrared
commands. A built-in library provides IR codes for most
current audio and video components. The controller also
has IR learning capability.
The controller provides both source-specifi c and common
IR output ports for device control. It can also link directly
to Russound RNET® source components for control from
the keypads; however, it does not support data feedback
from the sources.
The CAA66 system features simplifi ed programming,
which resides entirely in the controller. The SRC1 System
Remote Control accesses the program settings in the
controller and thus needs no separate programming.
To enable easy integration with paging systems, home
automation systems and other devices, the controller provides
a muting trigger input and system trigger output, as
well as an RS-232 port with a documented serial protocol.
The RS-232 port can also be used to update the system
fi rmware.
The CAA66 system keypads connect to the controller
with CAT-5 or CAT-5e cable. The speakers connect to the
built-in amplifi ers with standard speaker cable.
Rack ears are included with the CAA66 controller for 2U
rack mounting.
MCA-C5
The C5 multiroom system offers advanced features
that make enjoying your musical experience even
easier. Party Mode allows you to control the music and
volume in every zone from one zone using a shared
source. Source Linking connects multiple zones to the
same source while allowing independent volume and
on/off control, for when you want your music to follow
you throughout your home. Zone Linking provides
control of multiple zones by one or more keypads,